The USTR solicited public opinions on the tariff elimination of Chinese imports
On Tuesday, the Office of the United States Trade Representative said it was consulting the public on plans to resume targeted tariff exclusion procedures for Chinese imports, in particular, whether to restore previously expanded tariff exclusions for 549 categories of imported products.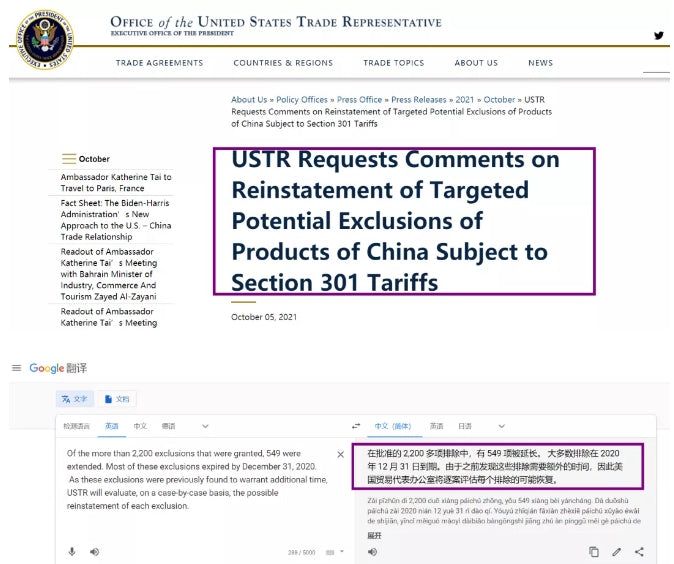 Reuters also reported on this.

The Office of the United States Trade Representative said it would listen to the public between October 12 and December 1 to determine whether a range of products, including industrial parts, thermostats, medical supplies, bicycles, and textiles, should be excluded.

Katherine Tai, the US trade representative, announced on Monday that she would contact Chinese officials about trade incentives and restore tariff exclusion procedures in the Office of the US Trade Representative.

On Monday, Dai Qi announced four practices of the Biden administration's trade policy toward China, promising to begin removing some of the tariffs imposed by former President Donald Trump on goods from China, stressing that China must implement the promised first phase of the Sino-US trade agreement.

"I am committed to addressing many of the challenges we face in this bilateral process to achieve meaningful results," she said. but most importantly, we must do our utmost to defend our economic interests. "

She said that the Office of the US Trade Representative has adopted four specific measures to adjust its trade policy toward China.

Dai Qi said at a meeting of the Organization for Economic Cooperation and Development (OECD) in Paris on Tuesday that she hoped to have discussions with her Chinese counterparts soon.
Subscribe MedInsights
Subscribe MedInsights
Subscribe MedInsights
Subscribe MedInsights
Subscribe MedInsights